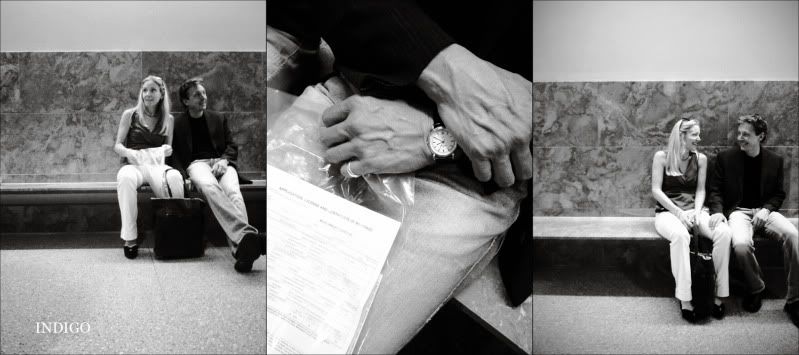 photographers notes - the legal part of Ginnie & Tom's marriage happened a
few days before the wedding day, in a court uptown. to be honest, i was
kind of excited to be able to go along and see what it was like. i was
only allowed to use a cameraphone while in the courthouse (the first 3
image collage are taken with Tom's Blackberry). it was an unusual
experience, i felt like a rugged outdoor survivalist, plying my profession
with only the tools in my pockets!

we made a few more images, this time i used my Nikon...they had a very
sweet and natural feel to them. while i was working on this shoot over at
Indigo afterwords, my partner Stephanie commented that Tom had on some
very stylin' jeans.

on the wedding day, the entire bridal party walked from Grace on Brevard
to the Harvey Gantt center, a terrific part of our shoot. there really is
something visually iconic about a bride and groom holding hands, just
walking through a city.